Live concert and performance inside a collective mega-painting, space event by the Foundation of Nothing in Carlsbergbyen (Pasteursvej 14, 1.st floor)
Friday 2nd Dec kl 20-22  (free entrance)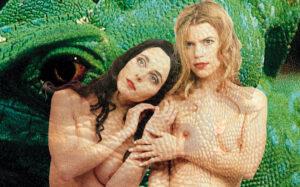 Meet Copenhagen Dream House artists Pipaluk & Cecilie Supernova, new songs, entangled fierce vocals and noisy guitars.
Unexpected Nothing, live performance w. Pipaluk, Tobias Ginsborg and other international painters and artists.
Join us in the House of Nothing, a 600m2 space transforming into a collective walk-in painting. We are in the old Carlsberg brewery, TAP E, where the workers used to peal oranges for orange soda.
Tobias Ginsborg and friends have been painting for a week, a never ending work of art covering floors, celings and walls, fueled by local artists in various progressive states of body mind being plus a huge amount of paint. The Foundation of Nothing invites you to hang out with art and artists, our home is your home.
For this first public events, we present live music and performance, planned and spontaneous.
Approximate Program :
4-8 pm Walk in, hang out
8-10 pm Live performance and concerts, featuring Alf, Daniel Arturo, Pipaluk & Cecilie Supernova, Jonas Præst and more
10 pm and onwards Dance Nothing Party (or something unexpected)
11.11 pm-12.12am (House of Nothing band)
LINK to FB event
Painters : Tobias Ginsborg, Ania Nørgaard, Jewel Pickard, Reximus, Alfie, Geo, Rebecka, Lorraine, Pipaluk, Cornelia, Daniel, and friends. Photo and video by Michael Elo
Foundation of Nothing
Is a group of artist primarily based in North Zealand working with inter-connective art and branching internationally with participants from UK, Mexico, Norway, India and the States. Challenges the foundation of personal expression by allowing all participants an introspective journey into "Nothing" that space inside that we all know and hold dear but can never really define.